Exportadora de Café California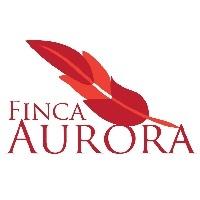 | | |
| --- | --- |
| Exporter | Exportadora de Café California |
| Producer | Huatulco |
| Trademark | FINCA AURORA |
| Type | SHG FANCY ESTATE |
| Location | Huatulco |
| Altitude | (3600-4000 feet) (1100-1250) |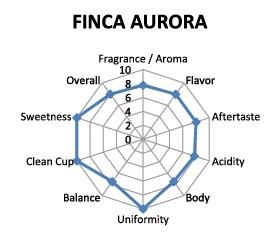 | | |
| --- | --- |
| Arabica variety | Caturra, Catuai, Bourbon |
| Bean Characteristics | Strictly High Grown, Close bean cut |
| Harvest Period | December through March |
| Milling Process | Washed, Sundried |
| Screen size | 80% over screen 16 |
| Preparation | European Preparation |
| | |
| --- | --- |
| Aroma | Balanced, Spicy |
| Flavor | Dark Chocolate |
| Sweetness | Sugarcane |
| Acidity | Bright, Tangerine |
| Roast | Even, closed bean cut |
| Total Score | 84.5 |
Producers
Finca Aurora is located in Huatulco, at the Pacific coast of Oaxaca, Mexico. Huatulco means in zapoteco dialect "Place where wood is worshiped". At Huatulco, you'll find your senses drawn momentarily away from the ocean by another of the area's greatest charms: coffee. Close to this beautiful beaches are the coffee plantations of Pluma Hidalgo where one of the most extraordinary coffees in Mexico is grown. The distinct coffee aroma, the surprising landscapes of Oaxaca's mountains and the people working this beautiful land offers you a unique experience in coffee.
The production system of "Finca Aurora" is based in using different arabica coffee plants of medium size such as Bourbón, Typica and Caturra mainly. The average age of the coffee trees is 12 years, which is favorable for the coffee production.
History
Oaxaca's coffee plantations were founded between 1872 and 1874, when the cochineal (an insect that produces natural color to paint clothes known as crimson dye) harvest began to decline. The inhabitants of the Miahuatlan region started looking for a new product they could harvest. Coffee which had been so successful in the state of Veracruz – was the chosen product, given the climate of Oaxaca's mountains were very similar, specially around Cerro de la Pluma. These name has been given because of the large number of eagles used to come here to lay their eggs and would pluck their own feathers to build their nests.
Geographical Situation
GPS Coordinates: 15° 45′ 17.39″ N, 096° 7′ 52.29″ W
The average of predominant weather is warm with a high level of humidity during the all year. In this place there are several fountain heads which let the producers to do their own wet process at their Fincas. The altitude of the plantation lies between 810 meters and 1250 meters, providing a High altitude coffee with specific chocolate and floral taste.